Evil Animals and Meat-Eating
Birds are supposed to be afraid of people to the point where you can't get within several feet of them. In a cafe in Austin, however, birds steal food directly off my plate, with me sitting one foot away from the action:
Bird behavior actually played a key role in ending my vegetarianism. For a few years, I was a pretty strict vegetarian who believed that killing animals was murder.
Living in San Francisco, the birds in my neighborhood started to go insane. Everything had been normal for several months, living there. One night, at about 3 am, the birds started chirping together, loudly enough to keep me up. It sounded like hundreds of birds squawking away. This happened several days in a row.
A few days later, I walked down the street and spotted a small, black bird perched on top of a lamp post. It seemed to be eyeing me. I walked past the lamp post, and then realized I had entered the bird's "territory." It swooped down, got within inches of my face, and let out a loud, threatening "caw." I moved swiftly out of the bird's territory. The bird returned to its original position, having won the interchange.
One final incident led to me thinking differently about animals. Walking down the street, in the same neighborhood, I stepped accidentally into some birds' territory. I felt thin, sharp needles scratching me behind the shoulder. I looked, and it was a bird clawing me. Another small, black bird swooped in and clawed at my hair. These two birds continued to claw and peck at me as I ran from them. I eventually realized that the only way was to cross the street--through traffic--and get out of their assumed territory. Only when I was fully across the street did they stop the attack.
Yes, I know...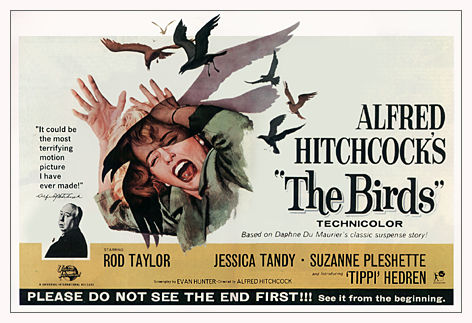 (Image from
http://hitchcock.tv/
)
That movie was actually based on a
true story
, and it also happened in California.
Over the next few months, I started to wonder if the birds' willingness to attack human beings--animals much larger and stronger than they are--had anything to do with the
animal-friendliness of the city
. Maybe, maybe not. Either way, I made a decision: human beings deserve to be the dominant species, and we have the right to uphold that status. I began to eat meat again.
I'm not the first person to turn against vegetarianism after seeing the vicious side of small animals. Here's a relatively famous story about
Ben Franklin
:
...vegetarianism was short-lived for Franklin. About a year into the diet, he saw a fisherman haul up a fish at a Boston dock and gut it, only to find another fish inside of it.

"Then, thought I, if you eat one another, I don't see why we mayn't eat you," Franklin said at age 17 in one letter.
Not a perfect analogy, since the birds did not eat me.
The question becomes: if you are convinced that animals are basically evil and that we need to maintain our dominant status, but don't want to hurt animals excessively, how do you walk that middle-ground? My way is to eat meat, but only buy the free range stuff from Whole Foods and to never eat veal. Good enough for me.